Thank you for visiting stmarysbay.org.uk

Please send us your memories!
Why not visit and stay at Dr Syn's Guest House! Click here for more details.

---
CLICK BELOW FOR VARIOUS PAGES ON OUR SITE:
As a child, I spent many glorious Summer holidays in the charming seaside village of St. Mary's Bay in Kent. Memories of it include the famous Romney Hythe & Dymchurch Light Railway, the Holiday Camp (or School Journey Centre as it became), the Dymchurch Funfair and the Sands Holiday Motel.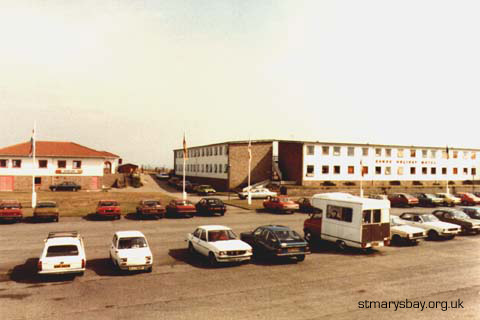 Sands Holiday Motel, St Mary's Bay, 1982
Neither the Holiday Camp nor the Motel still stand. I have many memories of the School Journey Centre as my parents, both teachers, took parties of children there for many years during the Sixties and Seventies. I have even more memories of the Motel, where as a child I stayed on many occasions in the Seventies and early Eighties.
Over time, this site will be populated with pictures, documents and other records of this village in a gentler, bygone age.
I will start off with some photos from my own collection (like the one above) ...
... but I need your help!
Please send me your memories, photos, scans of postcards or other ephemera, stories and recollections of St Mary's Bay Village, the Light Railway, the Holiday Camp, the beach, shops - anything in fact, including surrounding villages all the way from Dungeness to Hythe. All of your contributions will be gratefully acknowledged.
Did you stay at the School Journey Centre? At the Motel? Have you taken the RHDR to Hythe and back? Climbed the lighthouse at Dungeness? Built sandcastles on the beautiful beaches?
If so, I would love to hear from you!
Help me make this a suitable tribute to a place that gave me, and I'm sure many others, so much pleasure.
Thank you! - Simon
Visitors since 23 February 2006:
---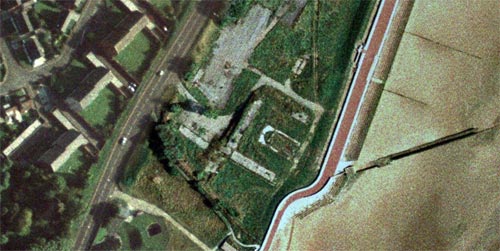 Aerial view of Motel site in 1999, some years after demolition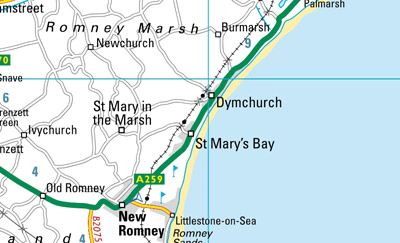 Multimap.com, Digital Map Data © Bartholomew 2003, © eMapSite.com Ltd. All rights reserved.
All the material on this site is copyright © stmarysbay.org.uk 2006.
---
Dr SYN'S GUEST HOUSE
24, Mill Rd, Dymchurch, Romney Marsh, Kent, TN29 0NY
Visit Dymchurch, St Marys Bay, and come and stay at "Dr Syn's Guest House." This "olde worlde" guest house located in the middle of Dymchurch town is named after "Dr Syn" the mythical character created by actor & author Russel Thorndike. The house is one of the oldest buildings in Dymchurch dating back to the 1700's and has a wealth of Beamed Ceilings and open fireplaces, with spacious en-suite bedrooms with a special charm and character.
We are currently taking bookings for functions, weddings, funerals and other occasions.